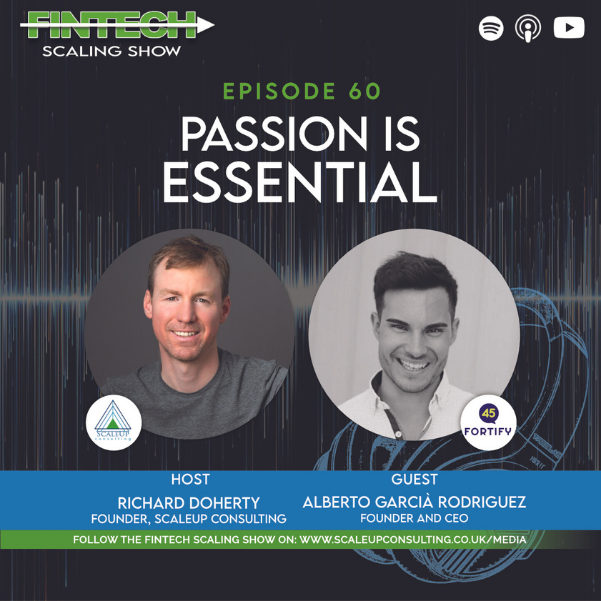 Here's what we talked about:
What is your true passion about life, about work? and can they intermingle and play out a duet together?
Today on the #fintechascalingshow,. Alberto, Founder, and CEO of Fortify, opens up about his passion, and how this set him on a path to make a difference in people's lives through positively impacting them through the tech that he's built.
Learning languages, and interacting with different cultures and people is a secret ingredient in creating meaningful relationships - and, at times, overlooked as we strive to do more "faster".
A purpose-driven entrepreneur, Alberto dives into how starting and leading a startup is changing him and the lessons he's learning every day as he builds his business from the ground up.
Episode 60, Passion is Essential, shows us for leaders to learn, grow, scale, and lead their teams to prosperity passion is an essential ingredient
Key Discussion Points
Life Lessons of a Startup Founder

Why being passionate about your business matters

How to create a business that fits in with your life, your mission
Quote: " I think for the current decision-making we need to really have good advisors. " - Alberto Rodriguez
Links: 
Linkedin: https://www.linkedin.com/in/gralberto94/
Website: https://fortifylanguages.pory.app/
Scaling Now?  
Want to speed up your scaling journey with my help? Get in touch with me here to see how I can help! richard@scaleupconsulting.co or visit our website https://scaleupconsulting.co.uk/