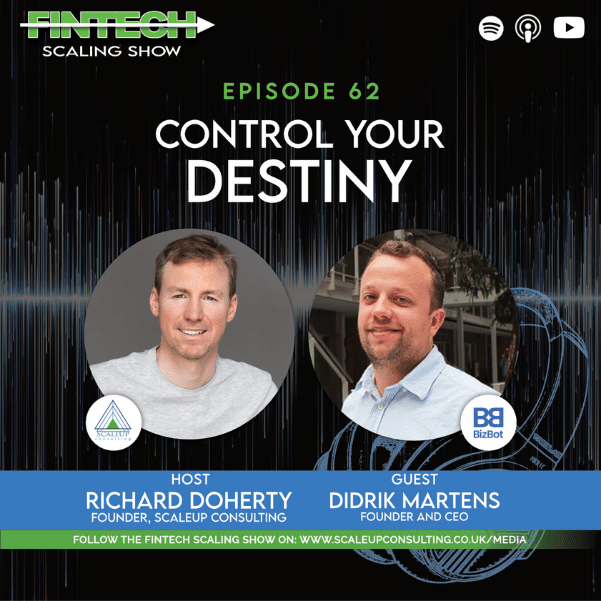 Here's what we talked about:
How are you stepping up and controlling your destiny?
Today on #fintechscalingshow, Didrik Martens, Founder and  CEO of Bizbot talks to us about the role of Founder / CEO, and why getting organised in your business is critical for you to enjoy the journey
He goes on to talk about the legal responsibilities of running your business and the critical parts one should be aware of as they set off. And we jump into the financial aspect, outlining key points to consider to guarantee prosperity as you grow.
Episode 62, Control your destiny, dives into the insides of what it really takes to be a Founder and CEO, the not-so-pretty stuff that you'll need to learn as you grow and scale your business
Key Discussion Points
The Role of Founder and CEO

How to get organised and enjoy your business

Results driven, not time driven efficiency
Quote: " Give value rather than discounts " - Didrik Martens
Links: 
Linkedin: https://www.linkedin.com/in/didrikmartens/
Website: www.bizbot.com
Scaling Now?  
Want to speed up your scaling journey with my help? Get in touch with me here to see how I can help! richard@scaleupconsulting.co or visit our website https://scaleupconsulting.co.uk/