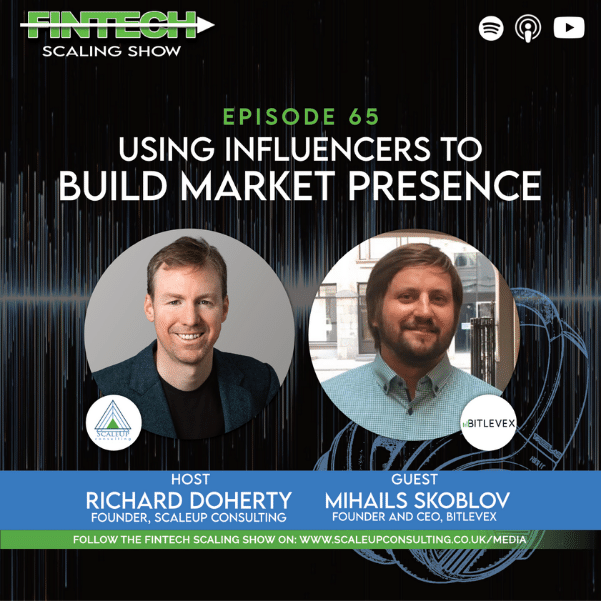 Here's what we talked about:
Are you using influencers to boost your brand awareness? 
Today on the #FintechScalingShow, Mihails Skoblov, CEO and founder of Bitlevex takes us down his path and talks about how he's leveraging influencers and video on YouTube to boost his market presence.
He dives deep into what Bitlevex is doing with affiliates and bloggers and how this is boosting their brand in the market and at the same time helping them to educate their target audience. 
Episode 65, Using influencers to build market presence, provides real-world examples of how to use social influencers  and established, and trusted communities, to scale your company
Key Discussions Points
How to build and develop business relationships

Why educating consumers is critical 

How to use YouTube?

The impact of social influences and blogging.
Quote: " If you find a good blogger influencer on YouTube, and if you find a good format to scheme and , The formula to where it can create a very good message for this particular audience, the result can be amazing' - Mihails Skoblov
Links: 
Linkedin: https://www.linkedin.com/in/mikhailskoblov/
Website: https://bitlevex.com/
Scaling Now?  
Want to speed up your scaling journey with my help? Get in touch with me here to see how I can help! richard@scaleupconsulting.co or visit our website https://scaleupconsulting.co.uk/